Dimensions 2.80m (from the ground) for cameras and DSLR up to 8kg – Come with the tripod. Excellent solution!
Proaim presents its 9ft Jib Crane that allows execution of high level professional shots while still keeping the crowd and crew safe. The High-Quality CNC constructed 9ft jib arm is sturdy yet lightweight. It easily breaks down to parts for compact storage. Experience pro style fluid movement with precision and lot more flexibility that lets you grab your viewers' attention like never before.

Effectively designed Jib arm have ultra-smooth, high-capacity Camera Base platform for remarkably stable point. Intersection joint assembly allows for quick and secure connection of jib sections. Comes with robust and heavy duty tripod stand that accommodates heavy duty Jib with stability. A top notch workmanship and immaculate quality Film Equipment lets you fly wherever your scene takes you.



























































































9FT RIBBED JIB CRANE SPECIFICATIONS
Weighing Capacity
8 kg (17.6lbs)
Material Used
CNC made Aluminum Powder Coated
Jib Arm Shape
Rectangle
Jib Arm Break downs into
2 Parts
Camera Mounting Bolt
¼"-20 and 3/8"-16
Length of Jib sections
3.5ft each
Jib Section Jointers
Silver Aluminium
Camera Tilt Angles
Upto 180 degree
Locking Pin
Stainless steel locking pin for stable or tilt camera angles
Height Range from ground level
8.75ft when stand height adjusted at 5ft
Camera Mount plate
Rectangle( 10.5cm X 9cm )
Length from tripod to Camera Mount
10.3ft.
Total Jib Arm Length
7 ft.
Horizontal Movement
No
Vertical Movement
Yes
Vertical Movement Lock
No
Weight Holder Rod
Made of MS Nickel chrome,
Length : 355mm
Dia : 25mm
Weight Closures
2pc. Made of MS Nickel chrome
Extendable
Upto 12ft only (One Extra section of 3ft )
LCD Mount Provision
Yes
Weight
10 kg
JIB STAND
- Made of Aluminum Black anodized
- Base spread - 32"- 48"
- Height adjustment - 44"- 80"
- Completely collapsed height - 46"
- Outer Dia of Top part of Stand - 50mm
- Safety Pin for Secure Pole
- Weight capacity of the stand is 200lbs (90kg)
PRODUCT HIGHLIGHTS


HI STRENGTH 9ft RECTANGULAR JIB CRANE for vibration free smooth & dynamic shots.


CNC MADE ALUMINIUM POWDER COATED construction makes the jib arm strong & adds quality rich feel.


2 FULLY RIBBED SECTIONS give 7 times more strength and metal wire system adds stability.


STRONG AND STURDY ALUMINIUM BLACK ANODIZED Jib Stand allows quick set-up.


LCD MOUNTING ARM and PROTECTIVE STORAGE CASE comes with this DSLR Jib Video Crane.


FEATURES
- Solid CNC machined Aluminum constructed jib arm for high durability.
- Tilting movements can be achieved with the control handle.
- Double Arm Section for maximum stability and minimum wobble.
- Uses standard household style exercise weights (1 inch hole) (not included).
- Stronger weight bar to easily achieve counter balance.
- Breaks down into two small easily transported sections.
- 2 axis motorized Head with high torque motors.
- 360 degree panning and tilting to capture numerous angles.
- Quick, Flexible & dynamic champion for all locations.
- Consistent run speed even at slowest setting.
- Power Pack for continuous power supply.
- Stable, Non slip feet Tripod stand.
- Portable and easy to carry.
- 100% Satisfaction Guarantee.
HIGH CAPACITY CAMERA BASE PLATFORM
High-capacity Camera Base platform is built to exacting standards for a remarkably stable point. It allows direct camera mounting on jib. Superior design set this base platform apart from others.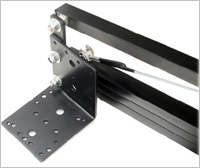 RIBBED SECTION JIB ARM OR VIDEO CRANE BODY FOR HIGH STRENGTH
Ribbed sections makes the jib arm stronger & durable. It supports cameras up to 15lbs without pan tilt Head and 10lbs when using with pan tilt head. The cable-tensioned design of the Proaim 9ft camera crane allows it to reach farther and higher while maintaining stability.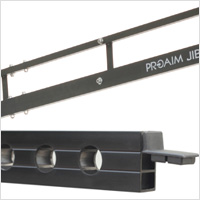 MACHINED INTERSECTING JOINTS FOR QUICK AND SECURE ASSEMBLY
Intersection joint assembly allows for quick and secure connection. A solid stainless steel thumbscrew assures a tight and secure fit from above and below the arm.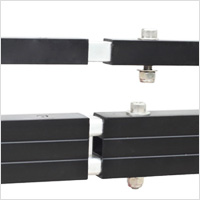 LOCKING PINS FOR STABLE OR MOVING SHOTS
High strength SS locking pin is used at the pivot point, and is connected properly to prevent from ever being lost.
-
The control handle can be unlocked by releasing the locking pin to get moving shots.
-
You can achieve fixed camera angles when controlling handle is pin locked.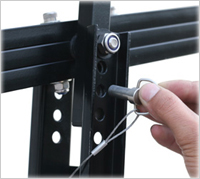 CENTRAL FORK TO HOUSE HEAVY AXIAL LOADS AND SHOCK LOADS
The fork provides you a maximum stability, smooth movements & jerk free shots.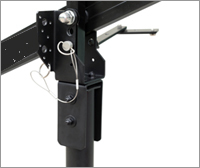 LCD MOUNTING PROVISION
The LCD Mounting Arm for LCD Monitor comes with this camera boom.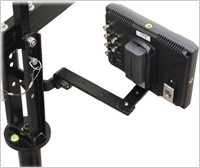 WEIGHT-CLOSERS (INCLUDED)
Stronger Hi-tensile weight closers help to achieve perfect balance.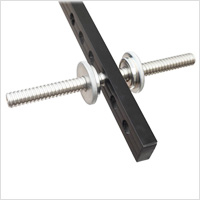 HEAVY DUTY STAND

The Heavy duty Jib stand is constructed to carry heaviest of loads with an ease. The Sturdy base ensures strong connection between the camera crane and stand, extra solid knobs for secure locking.
The high strength stand acts as a supporter for all time stable shots.